2017 Preservation Warrenton Partners' Event
Preservation Warrenton, Partners celebrate 20 years of historic preservation
By Luci Weldon of The Warren Record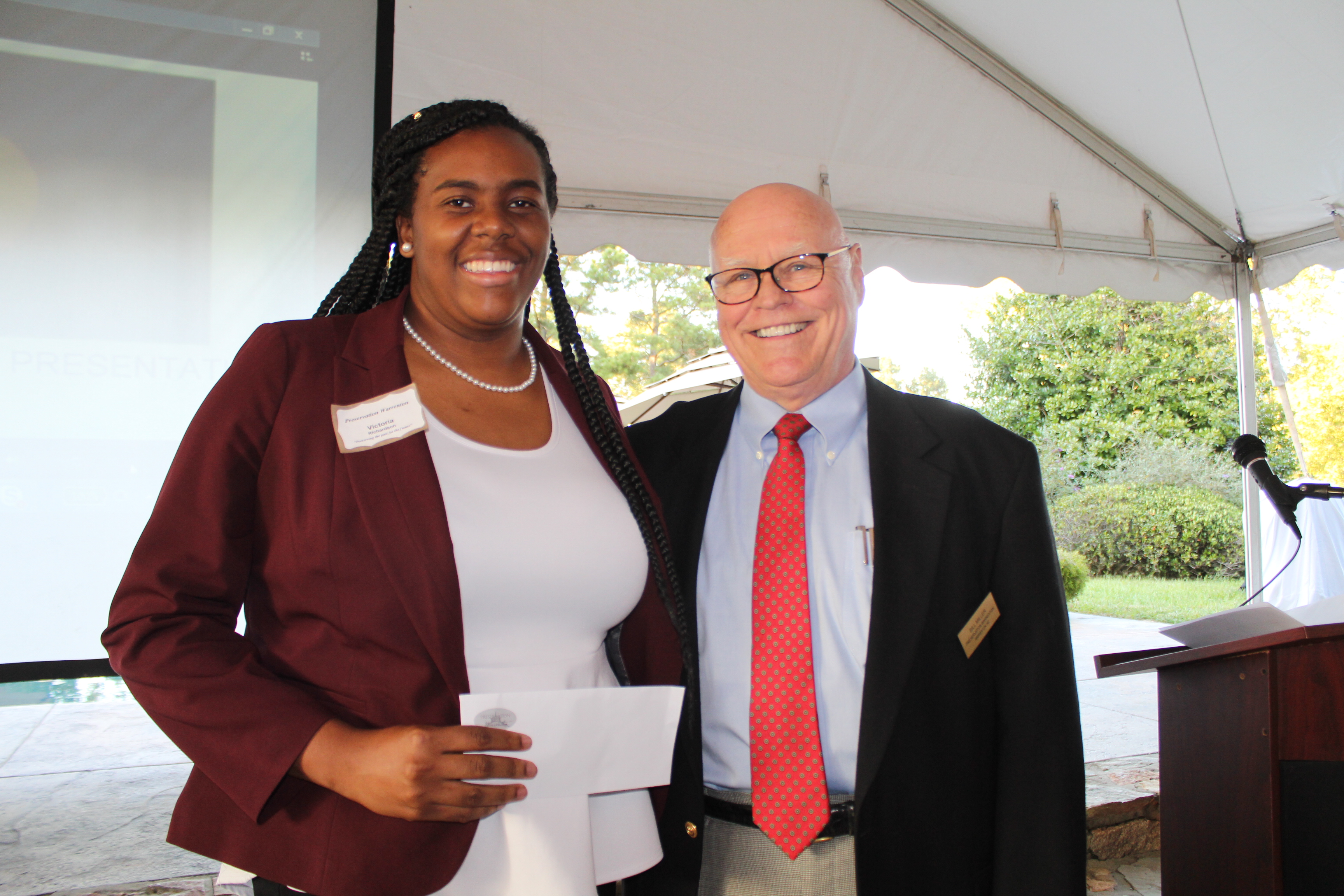 More than 200 people gathered Saturday at Lake O' The Woods in the Inez community for Preservation Warrenton's annual Partners in Preservation event as the organization celebrated its 20th anniversary.
The event drew people from Warren County and points far beyond for an evening of reflection of the past two decades, a scholarship presentation and a visit from WRAL-TV's Tar Heel Traveler, Scott Mason.
A Rich History
A rich historyTrish Peters welcomed those attending to Lake O' The Woods, which she and her husband, David, call home. She noted that 2017 marks the 15th anniversary of their purchase of the historic home and its surrounding grounds.
"When we first set foot on the property, it spoke to me," Trish said.
It was with a similar attitude that a group of people concerned about the preservation of historic properties in Warren County formed Preservation Warrenton in 1997. Since then, the organization has worked to promote the restoration and preservation of these properties, and increase knowledge and appreciation about the historic sites that can be found in the local area.
The first Partners in Preservation event was held 10 years ago.
On Saturday, Preservation Warrenton President Bill Miller recognized Janet Coleman and Richard Hunter for serving on the organization's board of directors for 20 years. He also commended charter directors Kim Burrows, Lisa Shrank, and Jan and Howard "Howdy" Tomlinson.
Also attending were Russ Wunker, an early director, and his wife, Dottie, who drove more than 900 miles from north of Toronto, Canada, to join the celebration. Russ was instrumental in developing Preservation Warrenton's walking and driving tour brochures and a Warrenton DVD.
Miller noted that Preservation Warrenton has achieved much in the past two decades and looks forward to ongoing preservation and educational efforts in the future.
A look to the future
Miller presented Preservation Warrenton's annual merit scholarship to 2017 Warren County High School graduate Victoria Richardson, who attended with her mother, Angela, and sister, Katelyn.
While at WCHS, Victoria was a member of the Dynamic Marching Machine, playing clarinet for four years, and serving as drum major during her senior year. She also served as student body president, heading up such projects as the county's first tri-school prom. Victoria also was co-founder and president of the first robotics team for students at the county's three high schools.
She is a member of Manson Missionary Baptist Church, where she has served as an usher, praise dancer, choir member and Junior Missionary president. A student at Winston-Salem State University, Victoria plans to major in clinical laboratory science, attend medical school and pursue a career as a surgical pathologist. Victoria draws inspiration from her faith and family, including the memory of her father, Leslie, whom she lost to cancer in 2013. Since then, she has strived to make her father proud.
A treasury of people's stories

For WRAL-TV's Scott Mason, the best thing about being the station's Tar Heel Traveler is meeting the people of North Carolina and learning what makes them special, he said. The life stories that he has heard have ranged from humorous to poignant.
At one time, Mason worried that he would not find enough stories to sustain the Tar Heel Traveler segments, but said that he now has a collection of 5,000-10,000 story ideas. He noted that conversations during the Partners in Preservation event suggested potential stories for the future.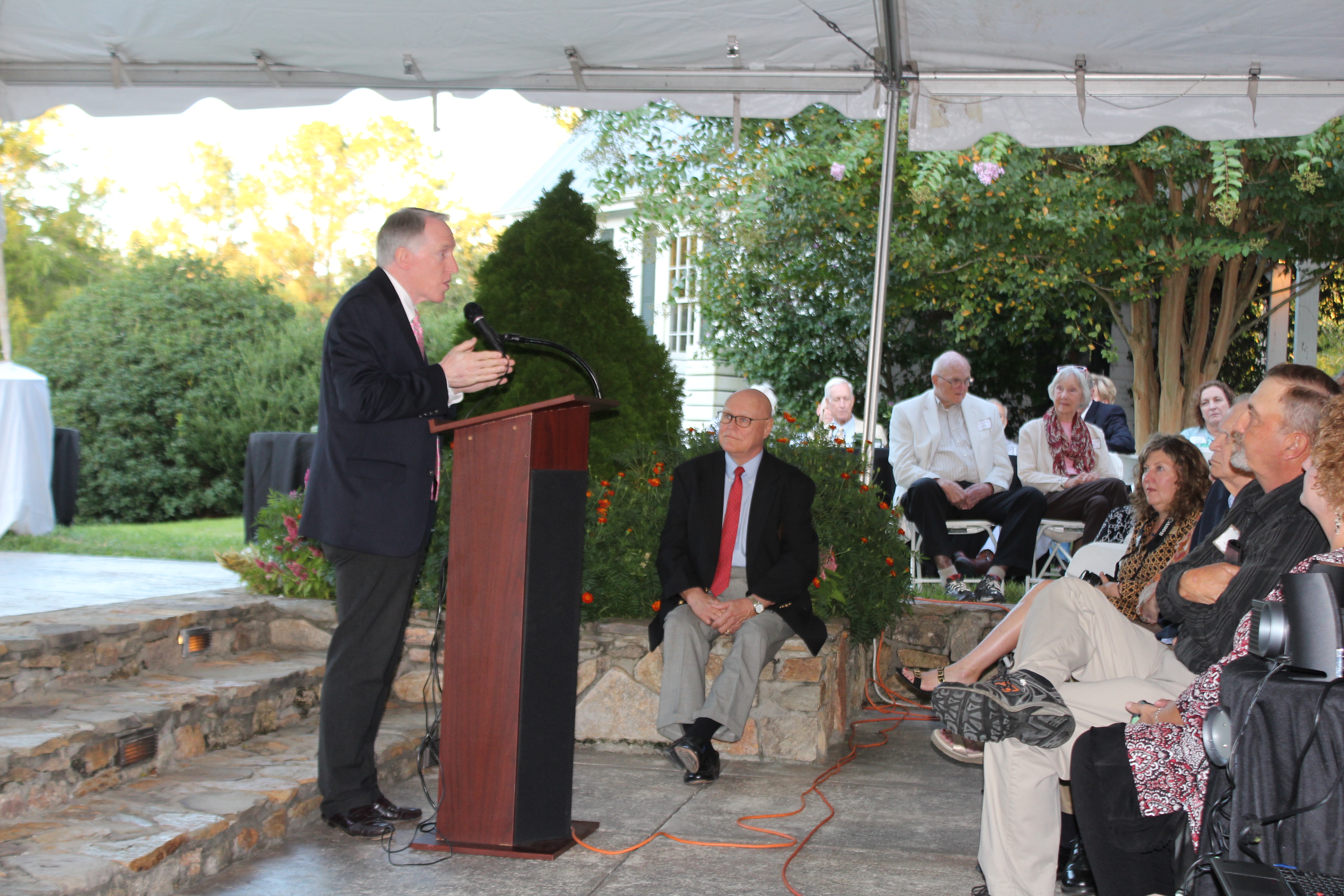 Mason described the filming and editing process for the short segments, saying that he met a quilter who provided a sound bite with everything she said. He also interviewed a Mr. Sniff who created statues from concrete. Filming the story took just 15 minutes. "Every minute was priceless," Mason said.
A 5-year-old basketball phenom proved to be much more shy, saying only the words, "It's fun," on camera. Mason wove a segment incorporating that statement, an interview with the boy's father and film of the boy in action.
The Tar Heel Traveler highlighted his more humorous stories, such as the Barefoot Man of Nash County and a restaurant with sections in three different counties. Other stories are powerful and inspirational, such as a 2-foot-tall artist and motivational speaker in Greensboro who said that she would rather be fabulous at her height than to be more than 5 feet tall for a day.
Some segments are sweet, such as a man who befriended an owl, while others bring a tear to the eye. Mason recalled meeting the owner of a stained glass company in Statesville, but could tell that he was missing part of the man's story. He learned that the man's son died of leukemia at the age of 5. Today, the man incorporates his son's face into stained glass images of Christ with children.
Mason also discussed Warren County segments on the Eastern Bluebird Rescue Group, the Lake Gaston Flyin' Aqua Babes, Nathaniel Macon's grave, and Sears Bugg's Turtles and Trains program.
Mason has published three books related to his experiences as the Tar Heel Traveler: "Tar Heel Traveler: Journeys across North Carolina," "Tar Heel Traveler Eats: Food Journeys across North Carolina," and his most recent, "Faith and Air: The Miracle List," which will be available in a few weeks.
His latest book features tales that include a golf broadcaster who was discussing his radio and television career when he told Mason that he died and came back to life and the sole survivor of a plane crash who saw a vision of Jesus.
Just as Mason said that learning about people's life stories is the most rewarding aspect of his work, Miller concluded the program by noting that local people and their dedication have made Preservation Warrenton the success that it is today.
---
Pictured at top Right: Preservation Warrenton President Bill Miller, right, presents the organization's annual scholarship to Warren County High School 2017 graduate Victoria Richardson during Saturday's Partners in Preservation event.
Pictured at bottom Left: WRAL-TV's Tar Heel Traveler Scott Mason describes the joys of meeting North Carolina people through his work as Preservation Warrenton members and their Partners in Preservation gather on Saturday.