2016 Preservation Warrenton Partners' Event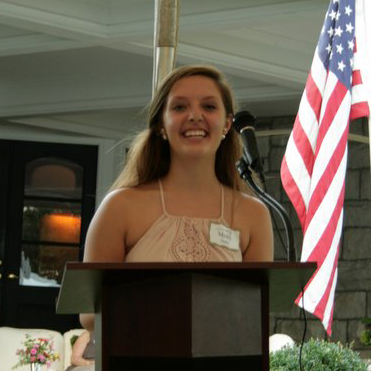 The 2016 Preservation Warrenton Partners' Event was Saturday evening, September 10th. President Noel Robertson welcomed about 200 attendees to Greystone, a historic property owned by John and Lane Nash of Raleigh. The 1895 estate, located on the Warren Plains Road, Warrenton, was a beautiful setting for the annual event. President Robertson recognized the Board of Directors for their contributions for planning the evening.
Molly Harty of Warrenton is the 2016 recipient of the Preservation Warrenton Scholarship. She was present with her parents, Jeff and Stephanie Harty. Molly accepted the $1,000 award with a personal thank you to the organization. "I appreciate everything you do for preserving the history of Warrenton. I am so thankful for this opportunity as I begin this new life's journey." She is a freshman at East Carolina University. This is the second year Preservation Warrenton has offered the scholarship, comprised of a written essay and an interview.
President Robertson presented brief highlights of the past year. In the spring, the organization offered a bus tour to historic sites in Virginia. The group visited Monticello, Mitchies Tavern, The University of Virginia, and Montpelier, the newly restored home of James and Dollie Madison.
Preservation Warrenton has also financially supported the Warrenton Community Center, the Warrenton Beautification Project, the Warrenton Rotary Clock Project, the Jacob Holt House Foundation, and the Warrenton Main Street Garden. The nonprofit group also maintains the historic house signs and updates the kiosks in Warrenton and in the county.
During the April 2016 Quilt Show and Homes Tour, thirteen historic properties showcased quilts and directors and partners served as docents. President Robertson announced the organization will fund historic district street signs in Warrenton. "On behalf of the directors and myself, we thank the partners for your support and for making these projects successful."
Special recognition was given to Craig Hahn, the Executive Director of the Chamber of Commerce of Warren County, and to commend him on his series of Historical Tidbits published in the Chamber Newsletter and The Warren Record. They have been most informative as well as entertaining. Executive Director Hahn's articles help "Preserve the Past for the Future", the mission of Preservation Warrenton.
Director Brooke Holt introduced Dr. Elliot Engel, guest speaker for the evening. Back by popular demand, this was Dr. Engels's third consecutive speaking engagement for Preservation Warrenton. He presented "Winston Churchill", a brief biography of the British statesman. In honor of the great man, both the American flag and the British flag were flying behind Dr. Engel. At the conclusion, President Robertson thanked Dr. Engel for his wonderful program, homeowners John and Lane Nash, and everyone for attending the 2016 Partners' Event.
Pictured at Right: 2016 Scholarship Recipient, Molly Harty of Warrenton and a freshman at East Carolina University